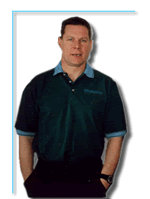 3J (Lining Systems) Ltd are the UK's market leaders in overcoming problems for handling difficult materials.
We were established in 1978 by John Hills (Snr.) and his sons, Jeff and John (Jnr.) - hence the 3J's name.
Jeff Hills (pictured left) is the Managing Director and has much practical experience in loose material handling, having spent the first five years of 3J's working on location, fitting and lining bunkers.
Jeff's hands-on approach to the business leads him to personally visit clients and design lining systems to suit their individual needs.

Jeff Hills -- Managing Director of 3J
We provide a specialist service for linings within the bulk materials handling and mineral processing industries which is nationally renowned within the industry.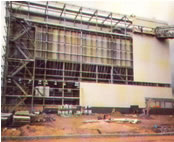 This photograph shows the final stages of contruction of the 2000 Tonne Rail Loading bunker at Wardley near Gateshead. The bunker linings, designed and installed by 3J, provide a flow of around 100 tonnes of opencast coal into railway wagons in around 20 minutes.
Working closely with the bulk materials handling and mineral processing industries, 3J have developed an approved code of practice for the installation of linings with UHMW.PE.

This means our specialist knowledge is coupled with practical experience and together with the technical advantages of UHMW.PE – high abrasion resistance, low coefficient of friction and nil absorption rate, ensures free flowing of the most difficult materials giving related increases in productivity.
Please feel free to browse though our web site to understand more about our unique services, where we are if you would like to visit us or detailed contact information.
Next